Central Asian Shepherd Puppies for Sale
all puppies are spoken for.to apply for future litter please go to APPLY page
parents Ofa certified(hips-elbows dysplasia free)


Previous Litter from Alsu
Please contact me for details by going to
Photosession with Litter B( born dec 23 2017)and Litter C(born jan 4 2018)
Parents of puppies are United kennel club Champions(www.ukcdogs.com) and also showing with AKC(/www.akc.org)
Please, pay attention that it`s only two official legit dog
registries in USA : UKC and AKC
Puppy Bebe is reserved
Litter from breeding of Alsu and Safar was born December 23. 5 boys and 5 girls.
New breeding: Champion UKC Aya and International Champion ,UKC Champion Safar.Date of breeding November 1 2017
Litter from this breeding was born January 4 2018. 7 puppies
here video of this litter
here our puppy Alihan at 21 days old(was born from Aya and Safar May 14 2017) and at 2,5 month old in his new home.
this is Aina from our first litter.we keep her .
central asian shepherd alabai
Central Asian Shepherd Puppy Articles
The Central Asian Shepherd Blog
Central Asian Shepherd dogs are a rare breed, so when you're ready to get your Central Asian Shepherd Puppy, it's important to avoid the following when looking for a Central Asian Shepherd Breeder.
Read More →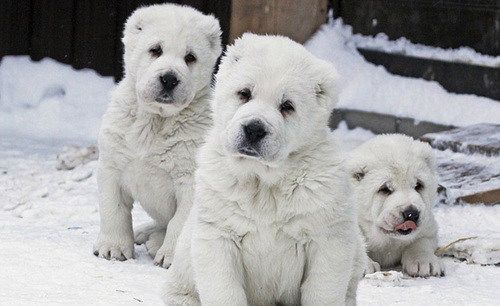 From an early age, Central Asian Shepherd Puppies are bolt, curious and brave. These playful and curious puppies require a great deal of socializing. In the following we will be sharing a few things you should know as a new owner of a Central Asian Shepherd Puppy.
Read More →